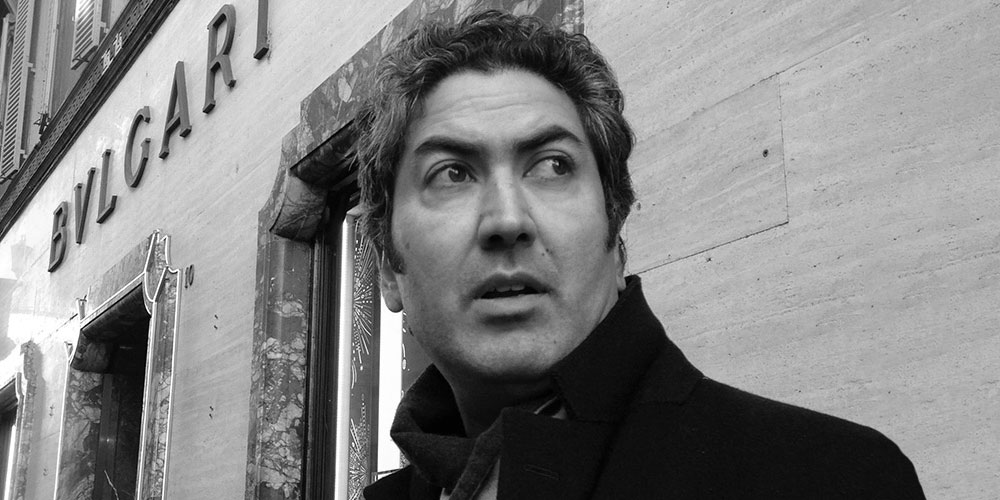 Kaz Rahman has worked extensively as Visual Artist, Filmmaker and Academic with both commercial and public institutions, festivals and broadcasters over the last 20 years. His work has played in film festivals and venues such as Anthology Film Archives (New York City), National Film Board of Canada (Toronto), India Habitat Centre (New Delhi), Salar Jung Museum (Hyderabad), Andy Warhol Museum (Pittsburgh), The San Jose Museum of Art (California), Bogazici Film Festival (Istanbul), SUFICINE Festival (Konya) and broadcast on TV24 (Turkey) and has been featured in publications such as The Times of India, The Hindu, The New Indian Express (India), Daily Sabah and Star Gazette (Turkey).
As a visual artist he has had several solo exhibitions over the last two decades and as a filmmaker his work continues to be informed by the act of drawing in cinematic terms such as the use of compositional line and color alongside sculptural form and architectural space. Some of his recent work has combined the marks of drawing with filmmaking and made use of animated techniques. His solo painting exhibitions can be described as 'Contemporary Islamic Painting' where an emphasis on line, pattern and color intersect with the natural elements and a repetition and mix of cultural and pop iconography. In some early exhibitions such as Magic Carpet and Deccani Ark (both predominantly painting) he has used classical elements from Ottoman, Persian, Mughal and Deccani work mixed with new materials and ideas. Other shows such as Flood in the Sky (photography) and the more recent Cinematic Landscapes (painting) have intertwined with filmic approaches to shots and sequences.
Rahman is the writer/director and editor of two feature films (Salaat 2010 and Deccani Souls 2012) which borrow from documentary styles of filmmaking; these independently produced feature films can be described as 'Art Cinema' in the tradition of 1960's European and 1990's Iranian cinema while also exploring the thin line between fiction and documentary and themes such as time, memory and narrative dreams. He developed an original program on the Arts for the Turkish broadcaster TRT World (English) with different one-word themes each episode; Green and Blue (2015) is a pilot episode around the theme of poetry that combines high-profile interviews, live performances and original cinematic poems.
Rahman has a BFA in Visual Arts from York University (Toronto) and an MFA in Media Arts (writing/directing) from City College (CUNY), New York City and has taught at universities and colleges around the world including a wide variety of courses/modules (over 25 different ones) related to Directing, Storytelling, Video Production, Cinematography, Lighting, Editing, Contextual Studies, Art History and Cinema History. Since 2004 this includes the University of Hyderabad (India) in the Graduate Fine Arts Painting Dept., at the Art Institute of Pittsburgh (USA) in the Faculty of Digital Filmmaking and Video Production, at Istanbul Sehir University (Turkey) in the Cinema Department and at Plymouth College of Art (UK) in the Film Department as well as the University of Plymouth (UK) in the Film and TV Department and the University of Kent (UK) in the Film Department. Rahman has been on numerous panels such as 'Video Art and Technology' (FIVAC Camaguey, Cuba 2011) and 'Art as Dialog for a Global Society' (Mattress Factory Art Museum, Pittsburgh, USA 2012) and given numerous lectures on his films and visual art as well as broader topics such as 'Islamic Art and Modernism' (TEDx Talk Istanbul, Turkey 2014) and 'Cinema and Islamophobia' (Istanbul, Turkey 2021) and was recently part of the International Jury (led by Spanish Filmmaker Oliver Laxe) at the IMUFF Film Festival in Istanbul, Turkey (2021). He contributes essays on film, art and politics for cinema and current affairs publications.